SQL Cloud Accounting Software
SQL Cloud is an online accounting software accessible anytime, increase productivity at anywhere. 100% database ownership, unlimited invoices, unlimited storage size.
Choosing the right accounting software is the key to a successful business. Business owners have started to realize that managing finances with basic bookkeeping tools is not enough. They are unable achieve the expected business performance results without a good accounting software.
An online accounting or on-premises accounting software helps businesses to reach their full potential by improving business operation flow, increasing efficiency, and preventing human error. Hence increasing customer satisfaction and retention. Nurturing a good customer relationship will improve sales returns, profits, and increase cashflow.
Most cloud accounting software in the market only supports basic invoicing for bookkeeping along with basic account reporting. Meanwhile, on-premise software gives users the option to customise their software to suit their own unique industry workflow. It can be challenging when a business that uses cloud accounting suddenly requires more specialised services to accommodate their growth but only to realize that their cloud accounting software does not support it. Therefore, it is important to choose the right business tools for your business from the beginning.
SQL Cloud Accounting perfectly combines both the benefits of cloud accounting and on-premise customisable software. SQL provides a unique cloud accounting service called "SQL Hybrid cloud". SQL Hybrid cloud is an accounting software as a service (SaaS) that combines flexibility, agility, customizability, unlimited storage and access all in one neat package!
Users can access SQL Accounting software either through the web browser or through the software application installed on their own computer. The advantage of SQL hybrid cloud is that business operations remain uninterrupted even without internet access.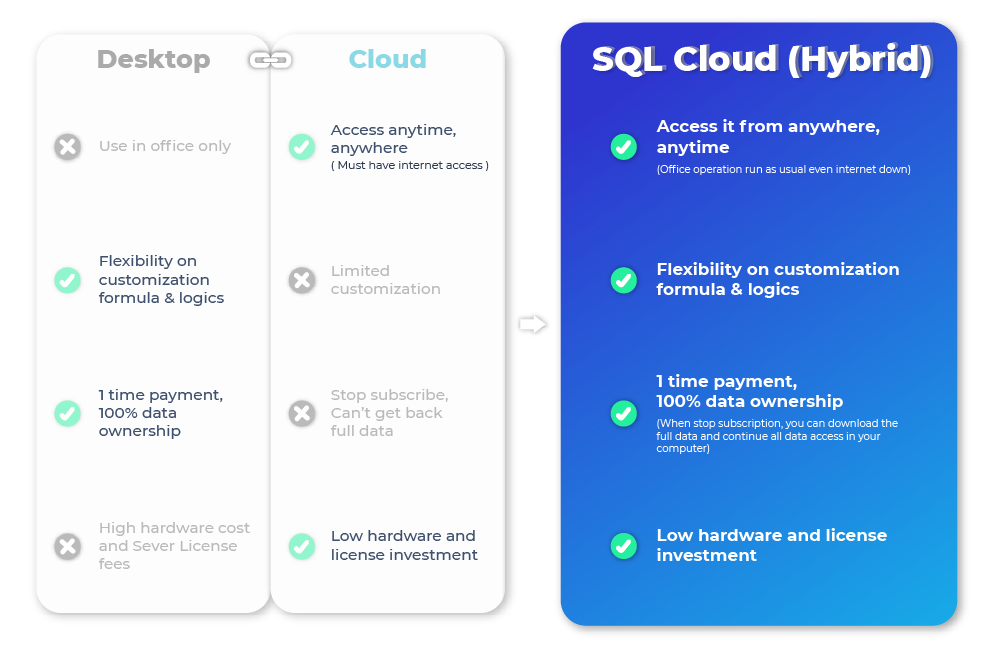 Does your business require specialised payment calculations, specific security or privacy setting? Customisations are sometimes needed to help your business achieve its full potential. Here is a list of our most in demand customisations. Most prominent businesses have implemented such customisations.
Salesman Commission Customisation:
Creating the perfect commission structure is crucial to your company's success. As an employer, how you choose to pay your sales representative affects your company's profitability, sales margin, and ability to retain talents. How can you automate your salesman commission calculation base on your company structure? SQL Account has helped more than 250,000 organization to implement automated salesman commission calculation. Commission calculation can be customized based on the date of invoice issued or payment received. After implementing the formula, the salesman commission can be generated automatically at every month end.
More specifications can be added to the commission customisation. The customisation can take into account the aging of invoices and the number of days for payment to be finalized. Besides that, the customisation can also determine if the commission is released based on partial or full collection and if the assignment of different commission rates is based on profit margin of the items sold or based on item groups.
Check out this link to have more idea on commission calculation
Operation Customisation:
In operational customisation, the customisations aim to add-on to the existing software operation process flow. Certain industries have additional steps when it comes to calculation of formula, manufacturing, auto capturing, auto updates, Examples of industries that will benefit from operational customisation are glass and window businesses, cargo and freight, and manufacturers. The operation customisations are usually based on mathematical calculations, creating, implementing new formulas, and automating certain processes to the system's existing formula. An example of operational customisation would be configuring the formula to calculate the total sales amount of an invoice based on the volume (length x height x width) of metal sheets. Operational customisation can also be used to improve workers proactiveness by calculating commission rates based on collection period, volume of sales, or type of items sold. With the implementation of operational customisation, productivity and efficiency can be improved at minimum cost.
Preventive Customisation:
Preventive customisation on the other hand aims to control and preserve the current flow of the system. The types of customisations done are usually to add an additional level of protection to prevent users of the software from abusing the system. Additional alert and system notifications can be made to inform users if and when they have underpriced an invoice or picked the wrong products for delivery. This eliminates human error while simultaneously retaining satisfied clients.
Check out this link for some popular customisation use among many successful companies
Top 6 key factors when choosing a cloud accounting software for your business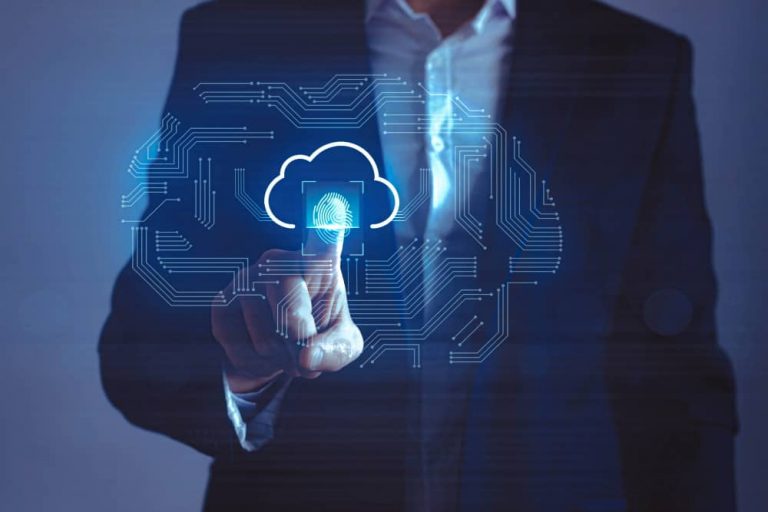 Majority of cloud software in the market are monthly subscriptions that can be ended anytime. But it is important to know if you have full data ownership over the data that you have keyed in. Will get back your database and all the transactions that you have keyed in after ending your subscription?
For SQL Hybrid Cloud, all users have full ownership of their database. Even after terminating the cloud service, you can get back your full database. You can then restore the database back into your local SQL software and continue using it as a locally.
SQL is the only cloud software provider that promises 1 time payment fee, 100% data ownership to their subscribers. This is the most unique benefit of using SQL Hybrid Cloud Accounting Software.
Access it anytime, anywhere
Users can work from home or in the office and get full access to the data. All data is synchronised and up to date regardless of the user's location. But one of the disadvantages is that this service requires internet access. If your location does not have any internet service, you will not be able to access to the system.
With SQL Hybrid cloud, you can still continue accessing the data even without internet access.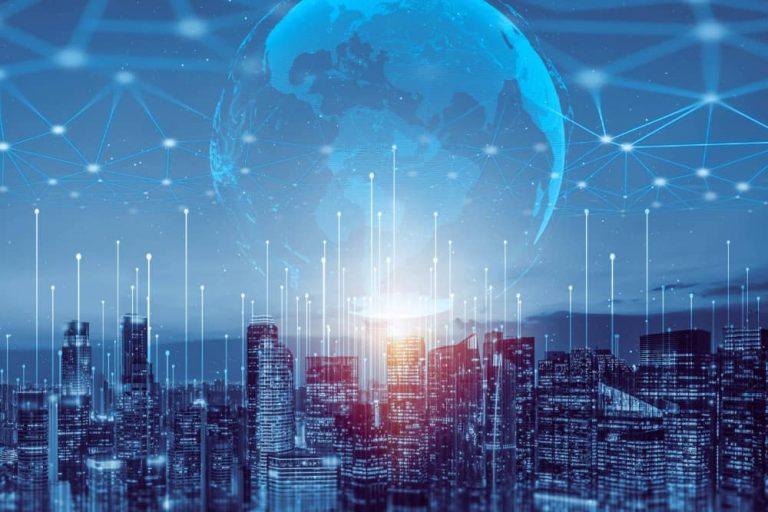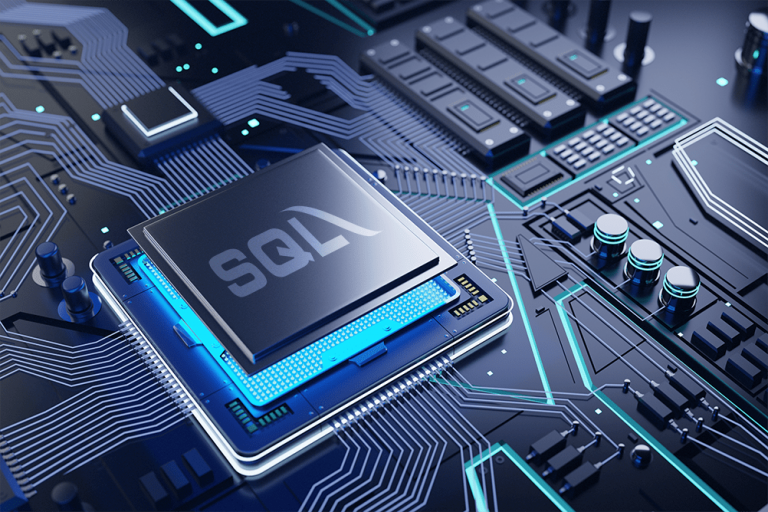 Unlimited transaction, unlimited storage, unlimited processing power, no extra charge
This is an important detail to take note when subscribing to a cloud accounting software service. You must check if hidden/additional cost are applied for increasing the storage size or transaction limit.
For SQL Cloud Accounting Software, there is NO limit to the database size. Key in unlimited invoices, payment vouchers, receipts, and all other documents. You can also store unlimited years of past transactions in SQL with unlimited database storage size with NO additional cost.
With SQL Cloud Accounting, you can get full access to our all-inclusive reporting features. Reports such as Stock month end calculation, annual and monthly Profit and loss comparisons, and annual sales analysis are all available in our SQL Cloud Accounting. Enjoy unlimited business reports with rapid processing power on SQL Cloud.
Highly customizable to suit your unique workflow
There is only one accounting software globally that can support both cloud benefits with customisable. SQL Cloud can be tailored to match your unique business flow.
SQL Account is the best accounting software suitable for every type of business industry. SQL Account is used in industries such as trading, construction, forwarding, accounting, manufacturing and many more.
SQL is used in more than 100 industries worldwide. As a business grows and evolves, automation is the key to stay ahead of the competition. Consult our SQL experts about your business operation logic and SQL will do their best to implement your current operational workflow into the existing SQL software process. It is also possible to add customisation to the preventive control aspect of the software. This customisation helps to eliminate mistake and boost company's productivity and efficiency. SQL Cloud as an customisable cloud accounting software can also help ensure compliance with specific industry regulations.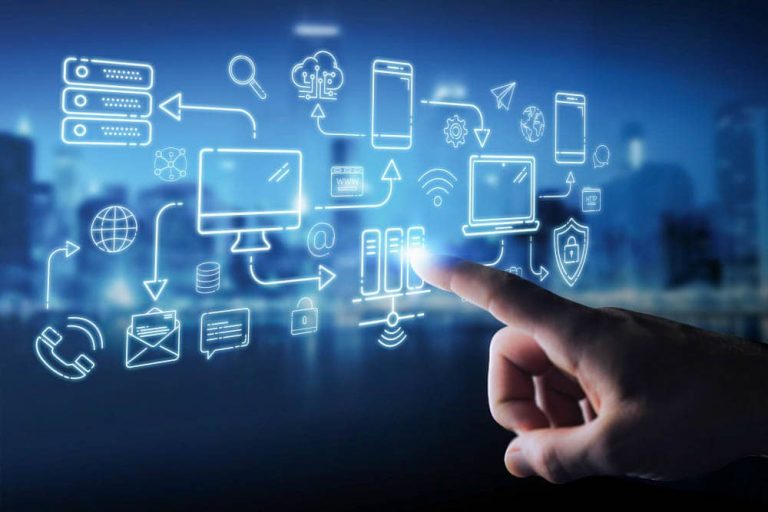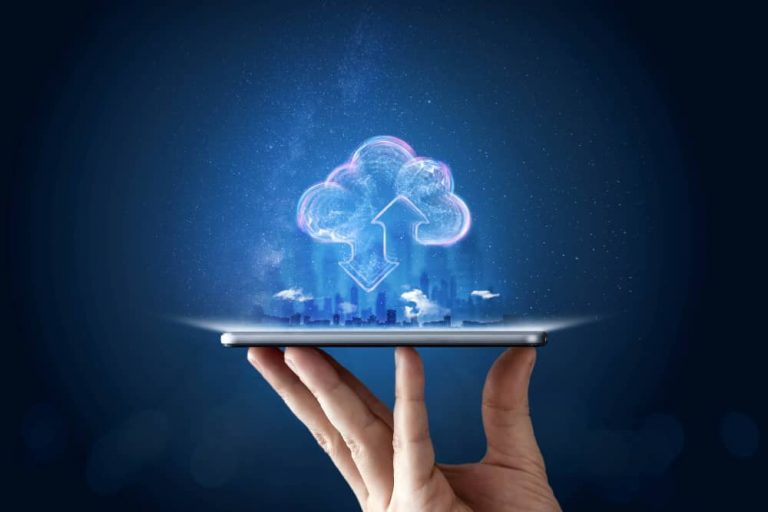 For new businesses, SQL also provides a monthly subscription cloud service for companies who do not want a 1-time payment, hybrid cloud software. The main difference between the Hybrid cloud and the monthly cloud subscription is the database in the monthly cloud subscription must be fully online and cannot be used if there is no internet connection.
Once your business grows or evolves, you can easily migrate to SQL Hybrid cloud without losing any of your data. SQL provides flexibility, giving businesses choice to use SQL on a local desktop, public cloud or host a private cloud at your own premise. A huge perk of this that you can seamlessly move your application from your local desktop to a public cloud or Private cloud and vice versa. There is no user lock-in control.

What are the benefits for both public & private cloud?
SQL 
Public
 Cloud:
No IT maintenance required
No need to purchase new hardware
No need to configure any network
Ensured data security
Monthly subscription fees
SQL 
Private
 Cloud:
Host your own cloud in your premise with only 1 time payment
No monthly fee.
You can have a hybrid use of SQL Accounting. You can use on the web browser when you are not in the office, or local installation can be use without any internet access.
What are the benefits for both public & private cloud?

SQL Public Cloud:
No IT maintenance required
No need to purchase new hardware
No need to configure any network
Ensured data security
Monthly subscription fees
SQL Private Cloud:
Host your own cloud in your premise with only 1 time payment
No monthly fee.
You can have a hybrid use of SQL Accounting. You can use on the web browser when you are not in the office, or local installation can be use without any internet access.
Receive quality localized support & onsite training
When it comes to choosing the right online accounting software, it is important to have the right support to ease you into the transition of using a new software. SQL has a local support team that can provide you with software support via phone call, email, remote control & also beginner user training. SQL support team consist of a team of highly trained and experienced consultants.
On top of that, SQL provides FREE online resources and material on our website & video guides in YouTube.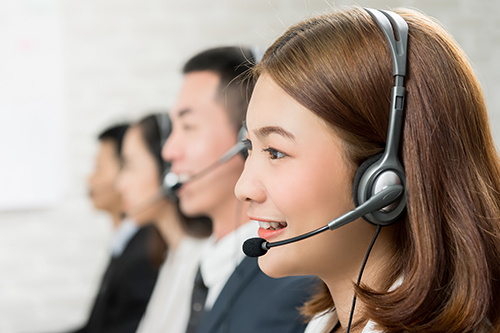 Want to know more how SQL Accounting Software help your business success?
by onsite to your office or online zoom, both available.
Plans & Pricing for public cloud
50% Government Subsidy
*T&C Apply
RM 60 RM 30
Additional Users
50% Government Subsidy
*T&C Apply
RM 60 RM 30

Additional Users
Accounting, Invoicing & Inventory
We are ready to serve anytime.