Conditional Movement Control Order (CMCO): Sample Letter for work Permission from Employer
Published on October 13, 2020
KL, Selangor & Putrajaya will be placed under Conditional Movement Control Order (CMCO) effective midnight Oct 14, to 27th Oct 2020. During this period, all inter-district movements are not allowed. The employee that require to cross districts for official duty will require to present their work pass or permission letter from their employers.
We have created a sample letter of work permission during CMCO Malaysia, employer is encouraged to provide this CMCO work permission letter for your employee who needs inter-district traveling to work.
What you need to do is download this sample CMCO work letter (Surat Kebenaran bekerja PKPB) in Microsoft word file, insert your company logo / letter head, the employee name & IC No, date period that need to inter-district travel to work, company address, company person in charge name, contact number & company chop & sign.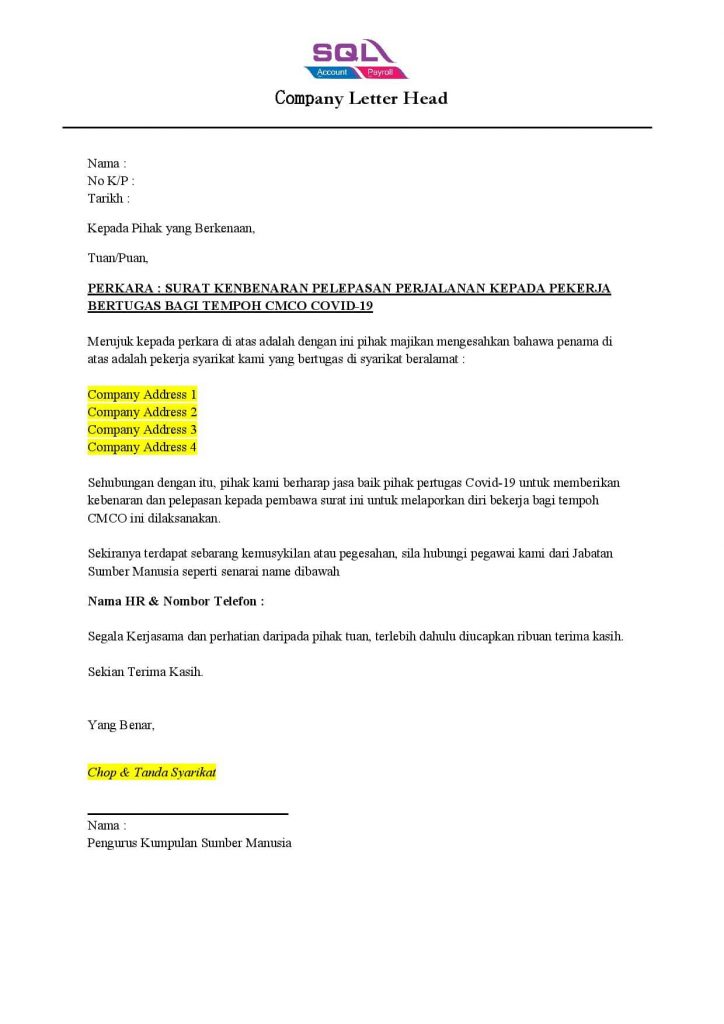 As the number of Covid-19 cases continue to rise, companies are encouraged to let their employees work from home.
Ensure the productivity and efficiency of your business by using an accounting software. The Malaysian government has initiated a 50% (up to RM 5000) SME grant as part of their initiative to encourage more businesses to be fully digitalized.
Be proactive during this CMCO and don't waste any more time. Setup your SQL Account Cloud accounting software and enhance your work productivity today.
Setup within 1 hour. No installation required.
Compatible with any browser
Access SQL Account Cloud from home. Work anytime, anywhere. Available 24/7
Daily automatic backup
High-level data encryption, secure all confidential information
UNLIMITED Storage. No limit on database size or number of transactions.
50% Government Subsidy
*T&C Apply
RM 60 RM 30
Additional Users
50% Government Subsidy
*T&C Apply
RM 60 RM 30

Additional Users
Accounting, Invoicing & Inventory
SQL Accounting Software Favoured Features
SQL Account is an accounting software that is suitable for all businesses, from small businesses to large organizations. It is crucial to find a business solution that suits the nature of your business. The right accounting software will broaden the horizons and expand business opportunities for you. Choose the best accounting software in Malaysia for your company. SQL Account is user friendly & can be integrated with no fuss.

Free Download Accounting Software trial to experience our accounting software.

Access Anytime, Anywhere
Access your account & manage your business anytime, anywhere.

Batch Emails Statements
Email statement to all your customer individually with password encryptions in one simple click.

Special Industries Version
Accountant set, shipping and forwarding, property management, construction, distributor, motor vehicle system, photocopier meter.

Real-Time CTOS Company Overview Reports
Provide SQL Account users a financial standing overview of their customers and suppliers. Helping users make better business risk assessment.

Advance Security Locks
Allowed users access into the documents with restricted by advance level locks, such as hide salaries in cash book.

Intelligence Reporting
Comprehensive reporting such as commission collection reports, tracks your top 3 profitable customers, annual comparison of profit & loss.
Want to know more about SQL Account?